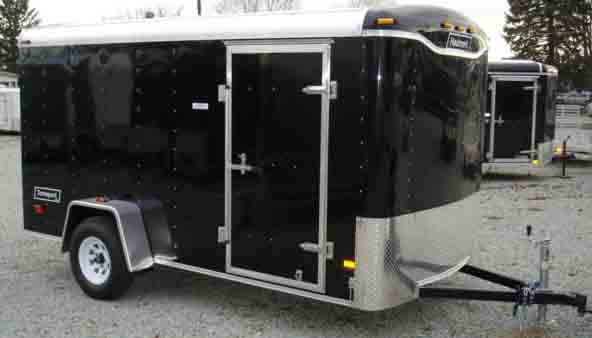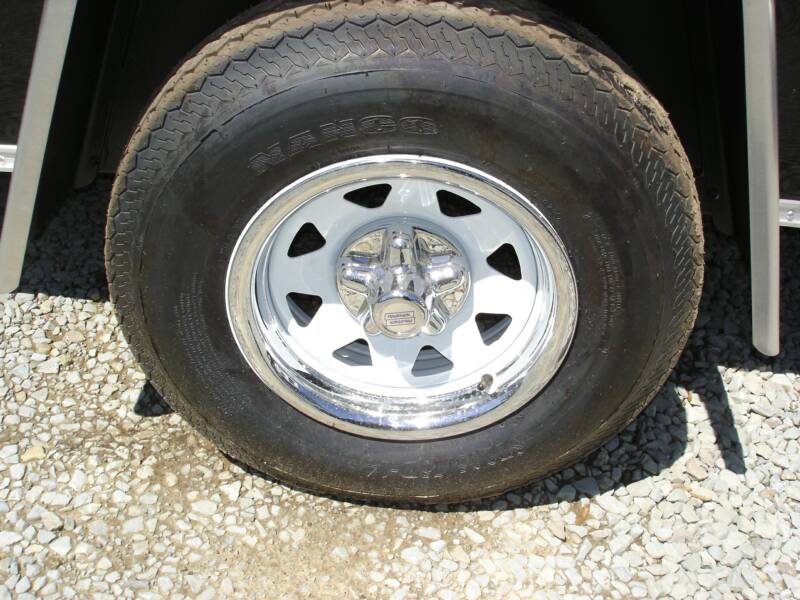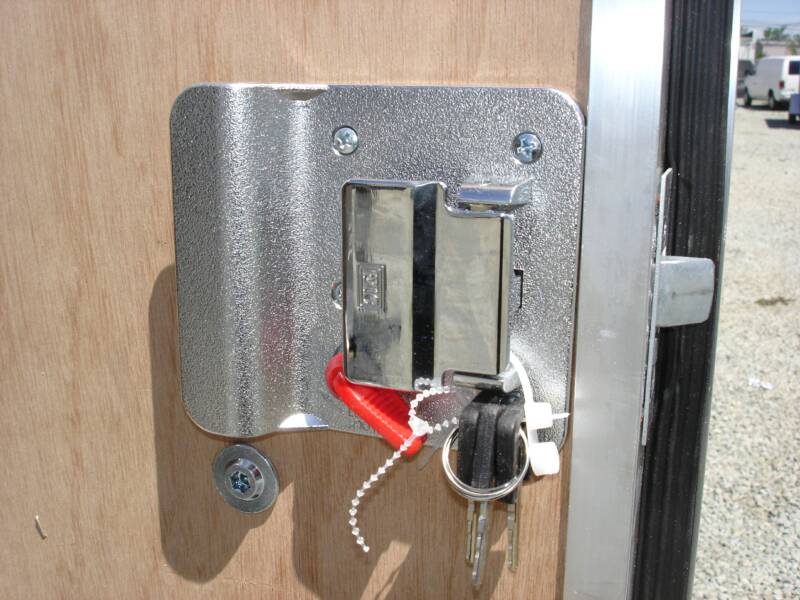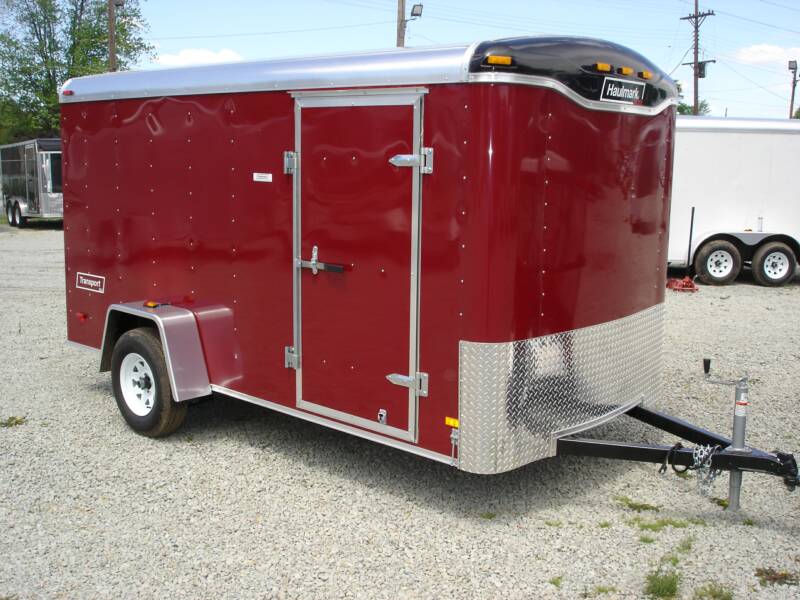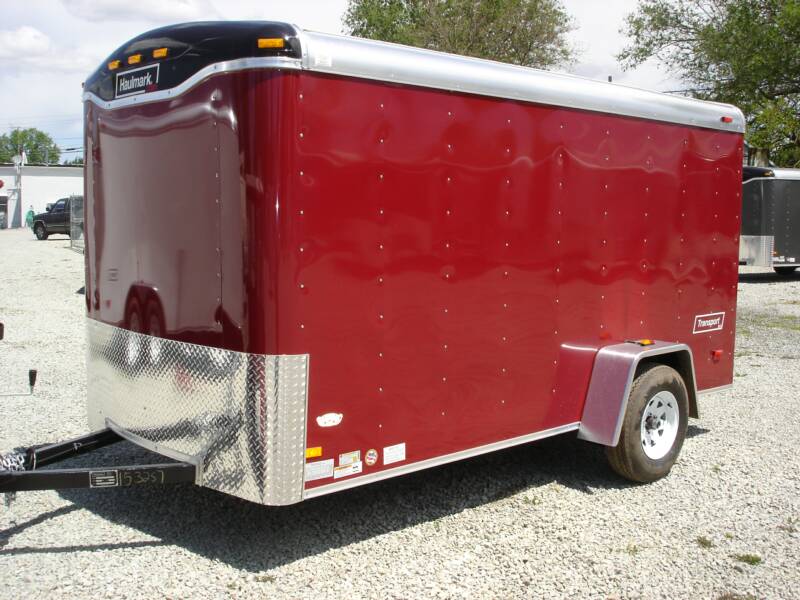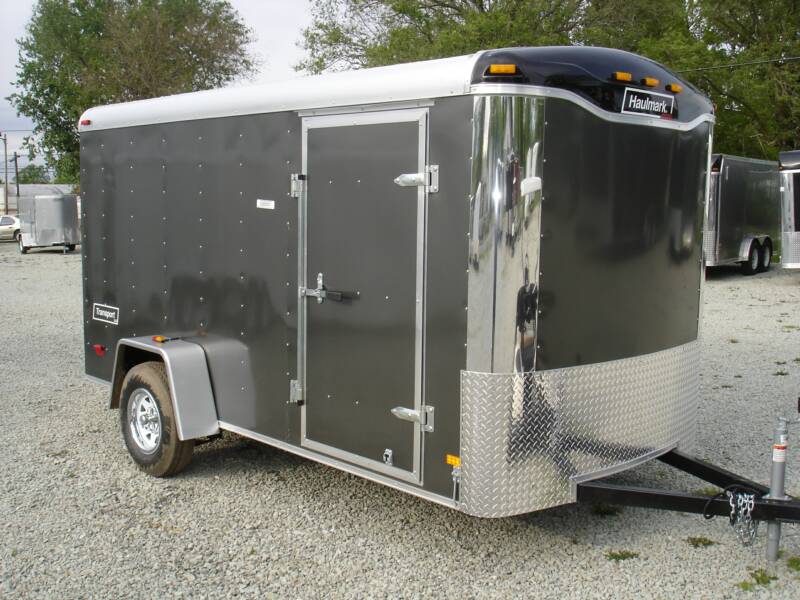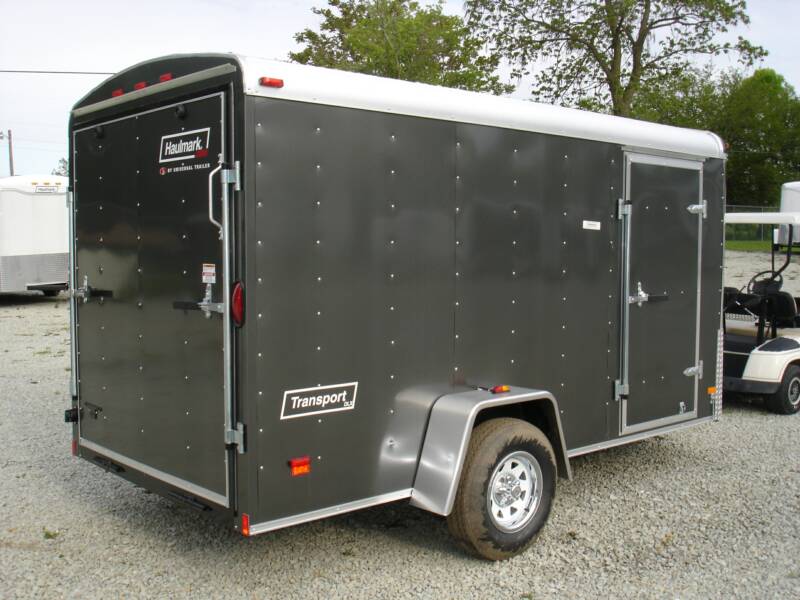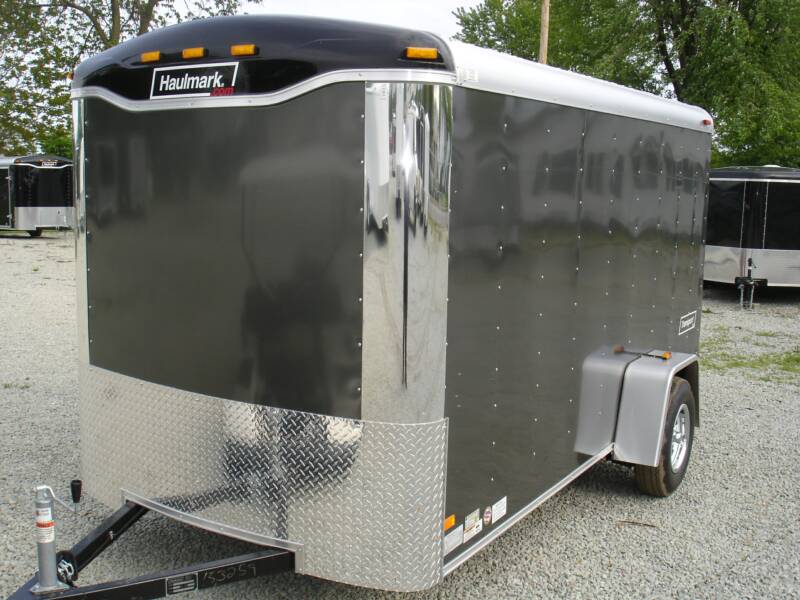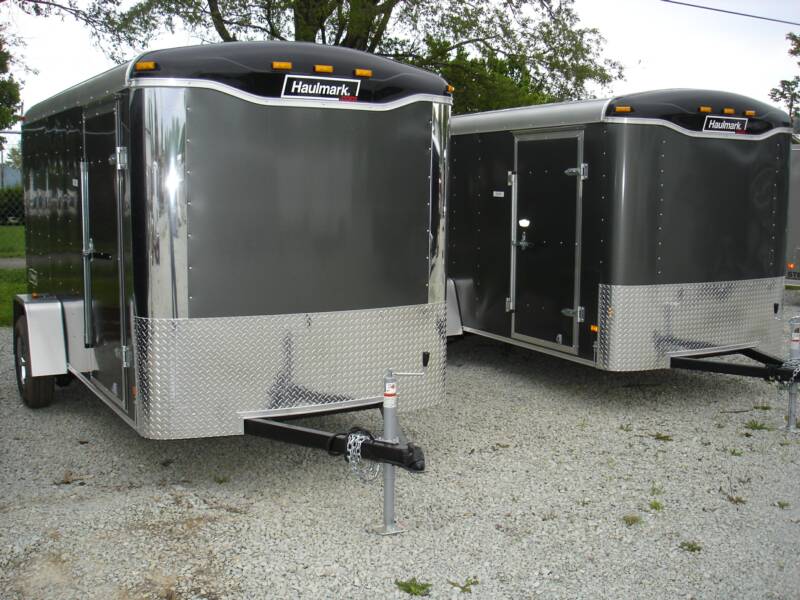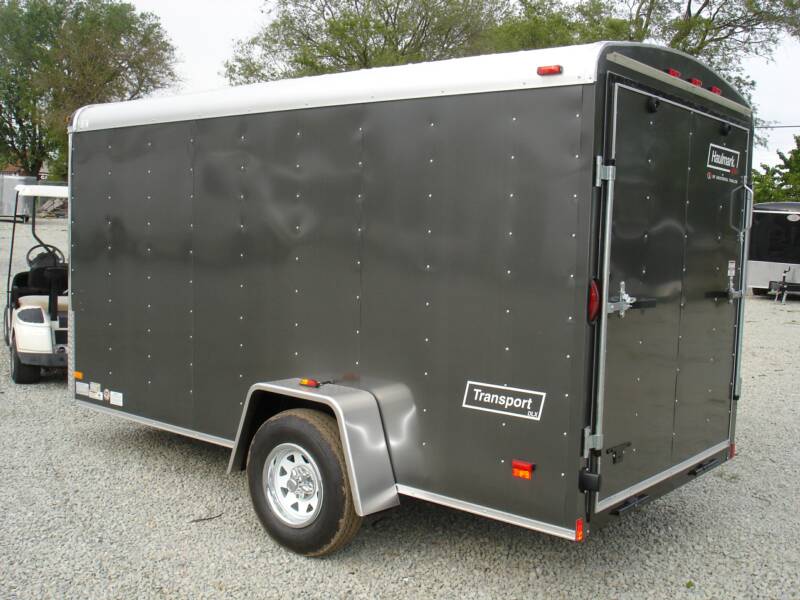 CARDINAL SALES

2501 Broad St (SR. 38),

NEW CASTLE , INDIANA  47362

765-529-2677

FACTORY PICKUPS

Option. Chrome Center Cap $15.

and Wheel Ring $15.


Option Keyed RV Latch, With Keys

Getting your money's worth?

The new Transport delivers more features than any competing brand. Features like one piece aluminum roof, .080 aluminum top edge wrap, an exclusive TPO front cap, two rear ramp door support cables, 3/4-inch plywood floor, wall studs on 16-inch centers, tube frame design instead of more common I-beam and the only "automotive model" warranty in the industry. This smart value tag hitch trailer is ideal for light- to medium-duty hauling. Yet, it has the look and features of other Haulmark trailers. For a more aerodynamic look, select the NEW OPTIONAL V-NOSE, available on all 5 ft. through 8-1/2 ft. models.

Features   

            Benefits

One piece aluminum roof     .....

                                                      ..    No more seams in the roof

.080 aluminum top edge wrap ...

                                        ... Resists denting and provides additional strength

Exclusive TPO front cap ..

                              .. Doesn't fade like fiberglass and doesn't crack like ABS

Two rear ramp door support cables ..

                                            ... Facilitates smoother and more stable operation

3/4 inch plywood floor  ..

                             .......More strength and durability to support your load

Wall studs on 16 inch centers  ...

                                  .. Reduces sidewall flex and adds strength to walls

Tube frame design instead of more common I-beam ...

                                              Increased structural rigidity that provides solid foundation

Haulmark Factory Specs. From There Web Site. www.haulmark.com

Exterior

Length: 12ft Long

Width: 6ft Wide

Interior

Loading and Towing

2,000lb Tongue Jacks: 2,000lb Silver Powder Coated Top Wind Tongue Jack

Hitch Type: Tag

Jack Accessories: Sand Pad

Safety Chains: 5,000lb Silver Safety Chains w/S Hook

GVWR: 2990

Suspension

Tires: ST205/75D14 C Rated Tires

Wheels: 14in 5 Hole White Spoke Wheels

Axle Width: Standard Track

Hub Type: EZ-Lube Hubs

Suspension: Spring Suspension

Weight: 3,500lb Axles

Brakes

Brake Type: No Brakes

Doors

Rear Doors: Cam-Lock Double Rear Door

Side Doors: 32in Bar-Lock Side Door

Construction

Cap: Polar White Cap

Crossmember Spacing: Crossmembers 24in On Center

Crossmembers: Z Crossmembers

Finish: .030 Aluminum Exterior

Floor Covering: 3/4in Plywood Floor Covering

Main Rails: 2in x 3in Tube Main Rails

Roof: 1-Piece Aluminum Roof

Roof Bow Spacing: Roof Bows 24in On Center

Roof Bows: Hat Section Roof Bows

Sidewall Liner: 3.6mm Lauan Sidewall Liner

Top Wrap: .080 Aluminum Top Wrap

Vertical Post Spacing: Vertical Posts 16in On Center

Vertical Posts: 60-3/4in Z Posts

Additional Specs

A-Frame Couplers: 2in 5,000lb Coupler

Bolt Pattern: 5 Bolt Pattern

Frame Type: Steel Frame

6x12SA Haulmark Transports 

with 6" package side door, stone guard, jacks, 1 light, 1 switch, rear Ramp door

Bristol Indiana & Fitzgerald, Georgia $2599. Factory Pickup Prices

McAdoo, PA $2599.  Duncan, OK $2599.Springville, Utah $2599. El Mirage, AZ $2599.

Plus Haulmark pickup fee. Indiana & Georgia $50. UT, AZ,OK, PA $100. If Shipped no fee.

Roof Vent $49. extra Double rear doors no ramp door -$150.  

   CORRECT 9-4-2009

Haulmark 6X12 Transport  with Package. 16" on center walls

This page was last updated: September 2, 2008